flag pen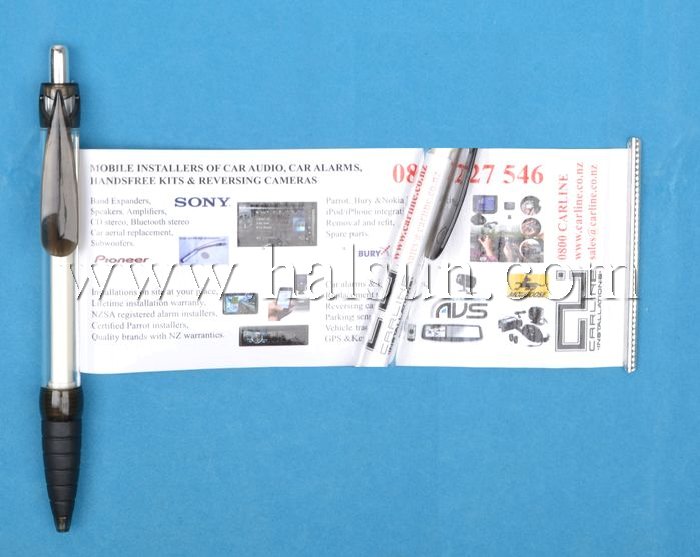 Flag pens stands streets ahead of all your standard promotional pens in that contained within the barrel is a 180mm X 68mm full-color offset printed pull-out information sheets!  
These are ideal for giveaways,promiotional and retail and their unique nature and practicality mean that they are rearely discarded and often passed on or shown to others. Whereever and whenever they use the pen, your message or information is there for them.
Perfect for ......
• Trade Shows
• New Product Roll-Outs
• Souvenir Item
• Team Schedules
• Pharmaceutical
• Maps
• Events & Concerts
• Technical Information
• Quick Reference Guide
• Self Promotion
• Corporate
• Banking
• Political Election Campain

• Visitor informations
• Reference Sheets
• Price lists
• Time Tables
• Conversion tables
• Special offers
• Promotions
• Sporting ficture lists
• Calendar of events
• Football schedules
• Menus
• Manual
• Advertisement
The promotional products buyer is always looking for a new standout concept that will really grab people's attention. The flag pens has just hit the market and new adopters are extremely happy with the response from clients, prospects and members.
Where to order: (Price as low as USD0.4/pc, and free shipping to your door!) *1
For HSBANNER-9:
Flag Pens order link for 500+ for USA, West Euro, Australia clients
Flag Pens order link for small quantity 100 - 500 pcs for North America, West Euro, Australia clients
Flag Pens order link for 500+ for clients from Africa, South America,East Euro, Mid East
*1 This low price is based on certain quantity and delivery location. See details by clicking above order link.